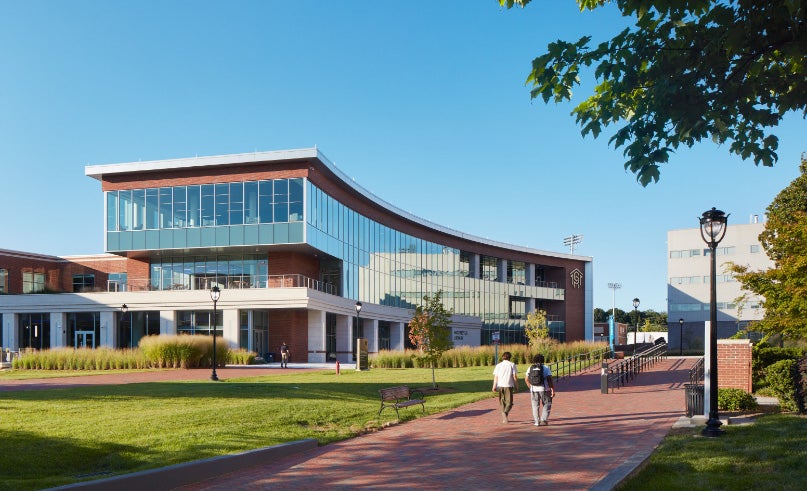 Morris-Berg Architects has built a strong partnership with Central Piedmont Community College (CPCC) over the span of 20 years, consistently delivering well-crafted and cost-effective projects that meet the needs of students, staff, and the college community. The latest testament to this partnership is the new Parr Center, located on the Central Campus.
The Parr Center is a progressive and state-of-the-art facility that focuses on student needs and houses various important services and spaces. It includes Student Success Services, the Hagemeyer Library, a Student Union with foodservice options, a 450-seat Performing Arts Hall, and the Pauline Dove Art Gallery. By anchoring the campus Quad, the building becomes the contemporary "front door" of the college, providing a welcoming and engaging space for students.
One of the key goals of the Parr Center is to foster social interaction and collaboration among students. It offers a range of dynamic and flexible spaces, from communal areas for shared experiences to makerspaces for collective discovery. The building integrates recording studios, open community spaces, and versatile environments that cater to both collaborative work and quiet solitude. This encourages students to explore their passions and engage in diverse learning experiences.
The design of the building extends to the exterior as well, with green rooftops and terraces that visually connect with program spaces and the surrounding city skyline. This visual connection helps to bridge the gap between the college community and the broader city community, inspiring students with new dreams, expanded visions, and opportunities for a promising future.
Overall, the Parr Center reinforces CPCC's vision as a champion of students, a catalyst for opportunity, and an exceptional provider of transformative learning experiences. It aligns with the college's mission to deliver exceptional education and globally competitive training in a supportive and engaging environment.